Have you ever heard yourself say "I KNEW I shouldn't eat that!"?
I had that experience again today…
… after I ate it, of course.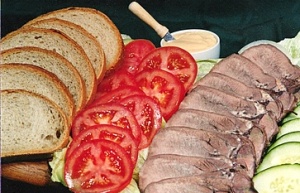 Years ago while on a business trip to England, I tried "tongue on toast" for breakfast. It was absolutely the most revolting thing I had ever tasted. A few hours later my body violently rejected it
Yesterday my wife prepared a tongue that had been given to us. She found a gourmet recipe and spent most of the day preparing it.
I wanted the adventure of getting past that old experience, but my whole being screamed NO! NO! NO!.
Today I finally gave in to my sense of adventure and tried it.
It wasn't nearly as revolting as I had remembered from England. In fact, it was quite good — until an hour later when my body began violently rejecting it again.
Other people had eaten some and enjoyed it without incident, so it may have been psychological rejection.
No matter. From now on, when my body speaks to me as clearly and loudly as it did about the tongue, I have learned to listen, and that no means no!
If you find these daily tips helpful, please forward some of them to the people you like and hope will have long, healthy lives.
If this Simple Natural Health Tip was forwarded to you by a friend, you are invited to subscribe here. (You can always change your mind and immediately unsubscribe.)